EsPiFF Brings Out Best of Both ESP32 and RP2040 in a Single Package
Due to the lockdowns that happened in 2020, the industry currently is facing a huge semiconductor shortage. The crisis has led to a major price increase and shortage queue for graphic cards, processors, and other products that require semiconductors. In such times the only solution is modules like EsPiFF which are replacements for ESP32 and RP2040.
EsPiFF brings out the best of both modules. ESP32-WROVER-B Wireless Module is a powerful, generic WiFi-BT-BLE MCU module that targets a wide variety of applications. RP2040 is a microcontroller chip designed by a global brand Rasberry Pi. RP2040 is a low-cost high performance microcontroller that uses C/C++ SDK and Mirco python.
Hardware and Connectivity Features of EsPiFF
EsPiFF comes with 8 MB of high-end ISSI flash storage and 2 KB of FRAM, which is much faster than the EEPROM. These hardware features result in high speed and storage for process variables.
The state-of-the-art 8Mbit ISSI flash is ideal for various applications like base stations, Smart meters, Bluetooth communications, smart grids, and IoT.
EsPiFF reuses Rasberry Pi accessories which enable the use of already existing Pi HATs. 100 Mhz signal processing and 40 pin header are also some of the additional features.
EsPiFF is equipped with a micro SD card reader which helps to expand the storage of the module.
The EsPiFF handles heating issues far more efficiently compared to Rasberry Pi. For applications like temporary supply holdups, the module has a Supercapacitor.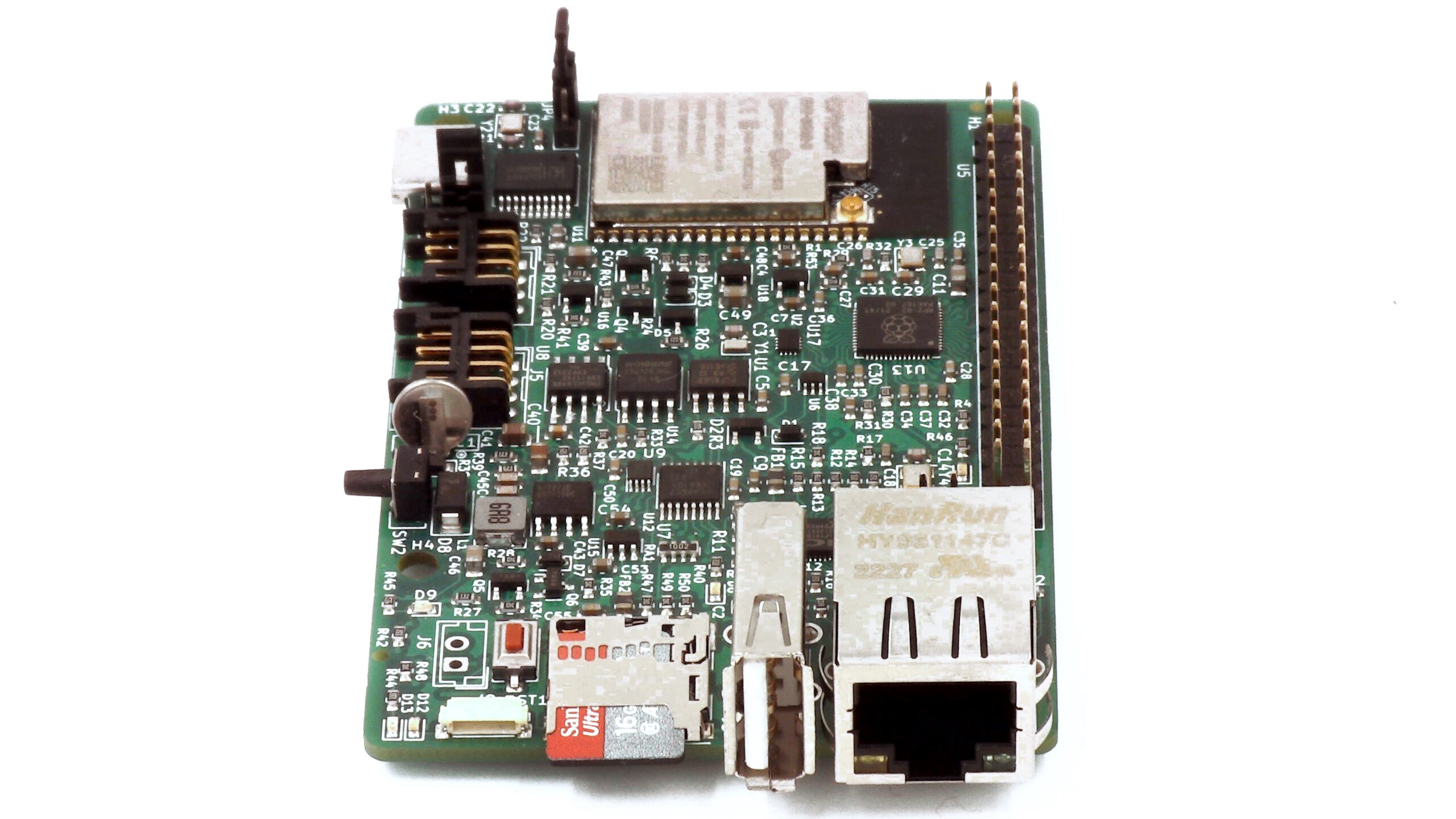 The EsPiFF is made for communication purposes which are also evident by its connectivity features. The module supports Ethernet as well as Wi-Fi. For wireless connectivity, the module is equipped with Wi-Fi antennas. This enables users to use the module inside plastic and metal enclosures and still be able to have great connectivity. It can be powered by a USB-C(5V/3A) port for high power-consuming HATs.The module has an onboard supercapacitor to keep the real-time clock running for days, even without power. The supercapacitor has, in contrast to a battery, a practically infinite lifetime. BOOT button for the RP2040, to switch between USB-Programming and USB-Host/Device.
The EsPiFF is programmed with the Arduino IDE, or with the Pico SDK (RP2040), Espressif IDF (ESP32), uPython, JavaScript and many more. In addition, Apache Nuttx and FreeRtos are also supported. EsPiFF is fully open source and you can find design files on GitHub, along with the datasheet.
Due to the module's vast capabilities, EsPiFF is a viable alternative for different kinds of projects which previously used RP2040 and ESP32.
Subscribe to Blog via Email
Join 97,561 other subscribers
Archives