EdgeLogix-RPI-1000 Comes with High-Performance Features that Provides You with All-in-One Automation Services
IoT hardware company, Seeed Studio, recently introduced a new board that targets the Industrial IoT and offers the greatest performance when it comes to the novel automation essentials. The new EdgeLogix-RPI-1000 is a Raspberry Pi-based industrial controller designed with powerful processors and flexible OS, a wide range of IO, multiple wireless capabilities and IT capabilities, and support for industrial software and cloud services. The industrial controller is actually a multifunctional device that can function as a PLC/PAC, an Industrial IoT gateway, a lightweight HMI, and an Industry PC.
"Seeed has launched EdgeLogix-RPI-1000, which extends the widely developed series of the industrial controller," Jena Liang from Seeed Studio wrote. "We would say Raspberry Pi could be a choice for the industry since it supports a huge network of connections among devices, remote monitoring, communicating with devices from different brands, embedded software systems, and dealing with tons of data."
The EdgeLogix-RPI-1000 is powered by the AI-enabled Raspberry Pi Compute Module 4 offered with the standard 1.5GHz quad-core 64-bit Arm processor, 8GB of RAM, and 32GB of eMMC storage, and a Broadcom VideoCore multimedia processor. Equipped with the ability to process and manage complex systems and sophisticated machines, the equipment also features up to 24x isolated digital inputs and outputs, 3x GbE ports, RS485, RS232, and CAN-FD. Others include an integrated dual-band WiFi, mPCIe slot for LTE and LORAWAN modules, expansion modules offering additional DI & DO and ADC inputs, and a full-color 4.3-inch touchscreen user interface.
It's interesting how the company in a short while released two Raspberry Pi-powered edge devices — the EdgeLogix-RPI-1000 and an earlier EdgeBox-RPI-200 — both of which are focused on the Industrial IoT and smart automation system. One major difference between the two however is that the EdgeBox-RPI-200 has fewer inputs and outputs and also lacks a built-in display.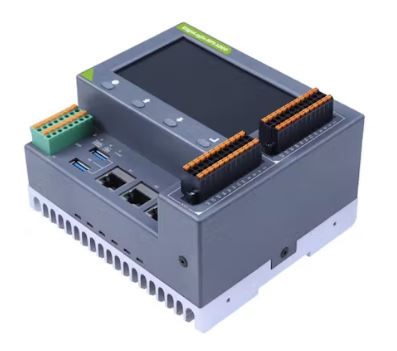 Features and Specifications of the EdgeLogix-RPI-1000 Include:
Powered by Raspberry Pi Compute Module 4
Up to 8GB RAM and 32GB eMMC
3x GbE ports
High-speed local bus extension
Up to 24x Digital Input and Output, 5x RS485, 3x RS232, 2x CAN-FD
Integrated 2.4G/5G WiFi and Bluetooth Low Energy
Mini PCIe slot for 4G LTE and LoRaWAN modules
Hefty aluminum heat sink
4.3-inch touchscreen user interface
Support for AWS and Azure Cloud services
Support IEC 61131-3 with CODESYS, Node-RED, and MQTT
OS: Debian, Linux, and Ubuntu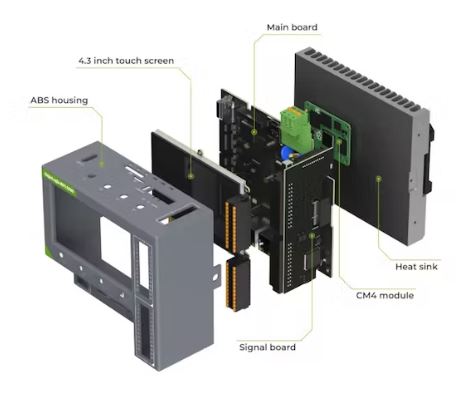 Seeed Studio is also offering a lightweight EdgeBox-ESP-100 industrial edge controller with many wireless capabilities and multiple Fieldbus. The compact device is powered by an Espressif ESP32 microcontroller and comes with Ethernet connectivity, WiFi, Bluetooth Low Energy, 4G LTE, DIO, AIO, etc. It can function as an independent PLC for field automation applications.
"It supports analog input, effectively monitoring and controlling in a remote environment and is ideal for PID control loops, logic sequencing control, or a gateway with flexible wireless and field sensors expansion," Seeed Studio claims.
The EdgeLogix-RPI-1000 is offered at three different price levels — $459, $479, and $509 for models with 2GB/4GB/8GB CM4 respectively. The EdgeBox-ESP-100 on the other hand sells for $179. A $10 discount applies if you are buying more than 10 units.
Subscribe to Blog via Email
Join 97,571 other subscribers
Archives